www.thecentrexgroup.co.uk
Disruptive Technology –
Lean Supply Chain Solutions
The transformative Centrex Group Infrastructure has been developed to form a holistic integrated lean supply chain, designed to deliver innovative agile circular economy supply chain management strategies and controls. It is advanced to support manufacture servitisation programmes for technology-based products.
The individual components of the group have been supplying services for many years in elements of this technical supply chain. Through careful integration, we can now offer the most comprehensive end-to-end service, supporting the product through its entire lifecycle from sale, through use and support, to end-of-life recycling and resale of the next generation of products.
Watch an interview with Mike Heslop, Managing Director, on the creation and vision of Centrex Group
Our philosophy
Today more than ever, Centrex group are a people, process and product organization. We strive to put the needs of our clients and their customers first. We believe a sense of purpose is crucial to creativity and innovation. We look to instil curiosity at every stage of our operations, fuelling learning and discovery through our lean interoperable methodology. We innovate for a purpose beyond products and services. Connecting and re-energizing every element of the supply chain, embracing and implementing change technology seamlessly.
New thinking and application of the various elements that make up traditional supply chains. Demystifying the most complex integrations to speed time and value. Built and supported with expertise and proven technology. RDT delivers data where you need it so you can focus on your products and customers, Our harmonisation of sustainable servitisation across the entire supply chain is only possible through intelligent use of software and our physical platform seamlessly integrated. The supply chain of the future is all about responsiveness and the customer experience LSCM managed within a lean information flow model. Every element of the supply chain must be attuned and flexible to the needs of the consumer while also being capable of addressing typical failures in traditional disjointed networks. Transparency and visibility are essential in delivering real time data response at any touch point in the SCM. Automation of elements through APP development will negate failures and increase reliability. Value streaming will be the norm at every stage with the Centre able to touch every element of the lifecycle of a product
The Centrex circular economy LSCM is a seamless connectivity infrastructure delivering rapid information flow to every interested party adding speed and accuracy throughout the entire LSCM. Optimizing lifecycle product suites as one complete ecosystem. Bringing the circular economy, servitisation and lifecycle into a modern demand driven lean supply chain. Meeting the challenges of increased customer expectations, shorter product lifecycles and fluctuating demand. Every element within the Centrex LSCM connects the flow of goods, Data and finance related to a product or service. We manage, disseminate and distribute product through defined visible process management at every stage of lifecycle within a lean integrated Circular Economy platform, Sustainable growth requires more than brute force and excessive spend. Centrex aim to create a lasting impact in a cost-effective way, using ingenuity and creative thought.
Our approach is organic, investing significant effort into crafting bespoke solutions no matter where the requirements sit within the LSCM. Crafting tailored solutions at any point within the LSCM, A truly versatile suite of individual services managed and executed within a Circular lifecycle economy solution.
Our approach
The methodology described and what it means in practical terms to you and your company wherever you are in the supply chain are significant. Circular economy strategic intent builds within it resilient, agile servitised process systems that can be applied in many different parts of the supply chain solution. Reducing friction/touch points, reducing errors lowering cost, engaging and informing at every stage. A data rich open-source environment delivered through advanced comprehensive LSCM software.
This is a shift left, challenging your expectations in terms of today`s status quo. You can and should demand so much more.
Disruptive thinking in product support field services brings real innovation, connecting people, process and product seamlessly. Simplifying distributed infrastructure product maintenance through intelligent application of lifecycle care. A servitised approach to modern break/fix maintenance.
Where can we make a positive impact on your cost of service
If you Build, Sell, install use manage maintain techncology hardware at any stage of its lifecycle then we can and will make a difference.
Manufacturers, Retailers, Hospitality, Banking, Mobile, Desktop, distributers, Hand Held devices, Managed Print, e-commerce, Logistics, Warehousing, Asset management/purchase, Warranty services, technical support, Information centre Management. Consumer products and much more.
In simple terms our approach is to work with clients on any specific part of the circular economy and demonstrate over time the benefits of closing the circle into a one simplified lean supply chain.
About us
The Centrex group consists of a range of service modules which individually complement and strengthen our ability to deliver innovative solutions within our respective areas of expertise. We apply a lean, single-platform physical infrastructure, aligned to high-quality data and integrity, all seamlessly integrated. We now live in a time of unprecedented global business and trade, not to mention advancing technology innovation and rapidly changing customer expectations. and the best supply chain strategies call for a demand-driven operating model that can successfully bring people, processes and technology together around integrated capabilities to deliver solutions with extraordinary speed, accuracy and sustainably.
Circular economy servitised product support (fig 2)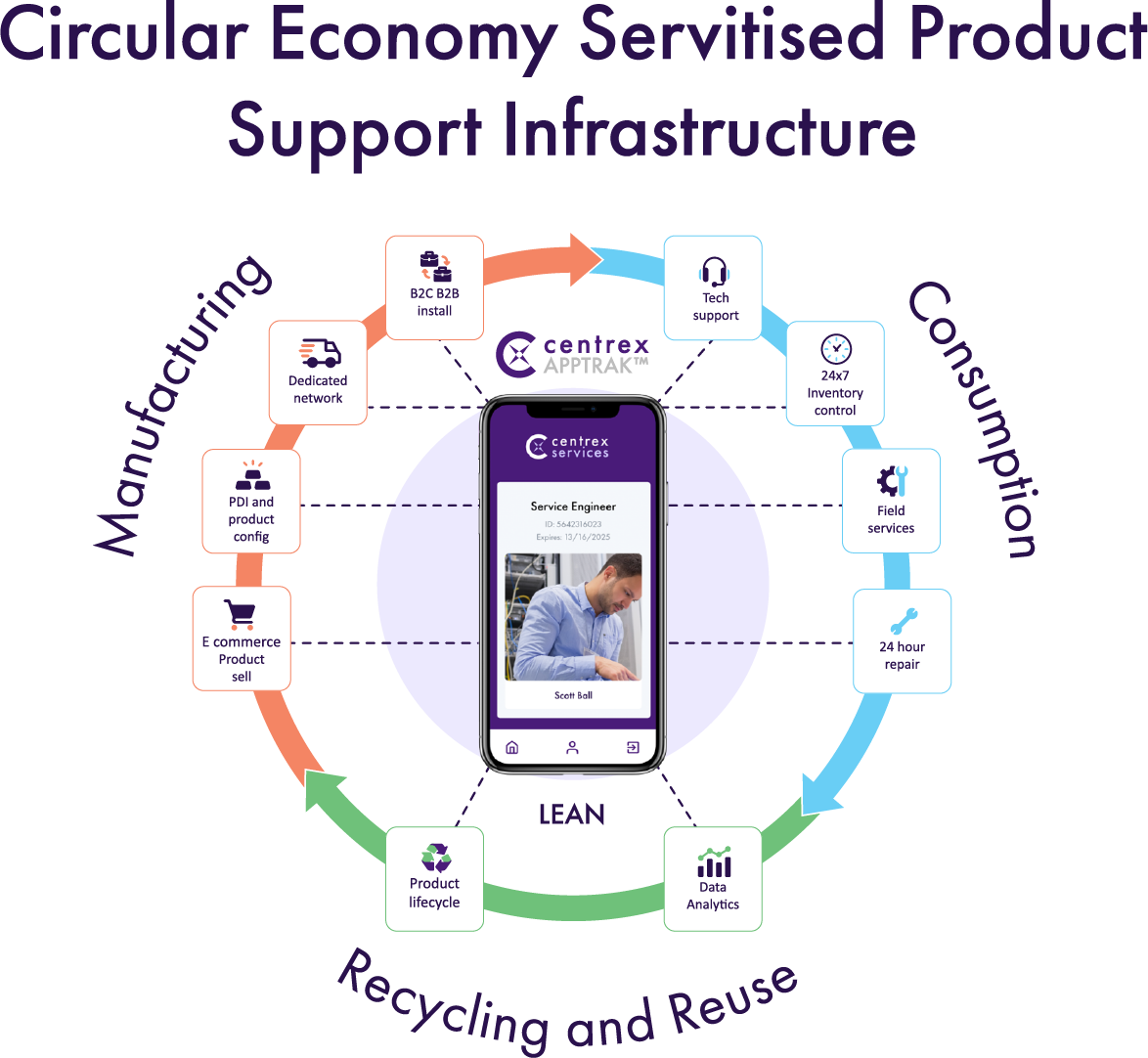 The Centrex Group has created a truly lean interconnected technology ecosystem, innovative in its dynamics and purposeful in its execution. Though SCM has always been an enterprise fundamental, the supply chain today is more vital than ever as a marker for business success. Companies that recognise and can effectively manage their supply chain while adapting to the volatility and ever-changing technology-driven business environment are the ones that will survive and thrive.